I am leaving my current place of employment as part of my constant effort to become a better developer. Part of Jeremy's tips on becoming a better developer include talking to and learning from (and with) other like-minded developers, which my current role just cannot offer.
My role was increasingly moving away from development (see screenshot below) and focusing more on higher-level aspects of technology, such as planning MOSS deployment and standards for zero-code MOSS-based applications. My new role is more development focused, and the people I have met in the team seem to share a lot of my goals in terms of improving development techniques and investing in good code.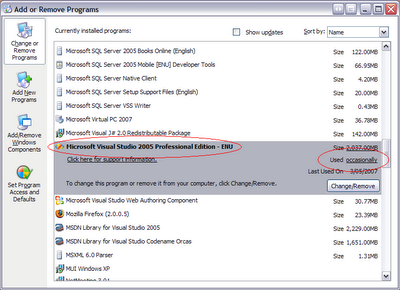 I have been with my current employer for over 5 years, during which time I have gained two wonderful daughters and lost my wonderful Mum to cancer, so it has been a constant through both joyous and devastating times. I have also worked with some great people (I have to say that, two of them make up 100% of my blog audience after forcing them to subscribe ;-) Hi gents!). I definitely would not have stayed for this long if it were not for the fantastic personalities I have worked with (including the "brotherhood of the chilli-drenched doner kebabs", to paraphrase a line in Jeremy's post). I have definitely learned a lot here, including a lot of self-taught technical stuff, but also on the non-technical side of things from my manager and colleagues.
As much as I'll miss the people, the fast laptop and the 22" wide screen display, I am really looking forward to more code and more developer peers. I start in early August.
So once I start contributing to an OSS project or three then I'll have covered all 6 of Jeremy's points. I wonder if he offers a guarantee with his "steps to success" program? :-)